Commodities / Gold and Silver 2021
Feb 25, 2021 – 05:54 PM GMT

Gold continues to wallow near its recent low price level, near $1765.  Silver has continued to trend moderately higher – but still has not broken out to the upside.  Many analysts have continued to estimate when and how metals will begin the next wave higher.  My research team and I believe we've found some answers to these questions and want to share our research.
Silver Explodes In Late-Stage Excess Rallies
The first thing we want to highlight is that Silver tends to rally excessively in the later stages of any precious metals rally.  For example, in mid-2010, Silver began an incredible upside price rally after Gold rallied from $720 (October 2008) to $1265 (June 2010).  This suggests that the price relationship between Gold and Silver "dislocated" in the early stage breakdown of the financial markets near the peak of the 2008-09 Housing Crisis Peak.  Then, in late 2010, Silver began to move dramatically higher while Gold continued to push an additional 80%+ higher.
The Silver rally in 2010~11 is clearly evident on this Silver/Gold Weekly chart, below.  The lack of any Silver price advance compared to Gold prior to the 2010 rally is also evident.  One interesting fact relating to how Silver reacted to the 2008~09 Housing Crisis is the deep collapse we see on the left edge of this chart.  A similar collapse happened just recently as COVID-19 shocked the global markets in 2020.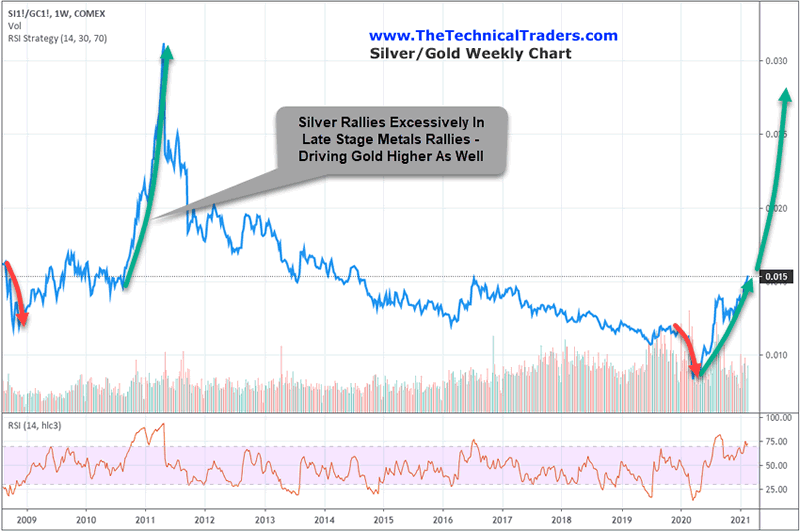 One key aspect we found very interesting is how Silver recovered moderately slowly in 2009~10 before launching into an incredible breakout rally in late 2010 – nearly 15 months after the bottom.  Currently, after the COVID-19 bottom, Silver has rallied a bit more aggressively and quickly.  While Gold has languished below $1800 recently, Silver has continued to gain value compared to Gold.  This new dynamic may suggest the current setup in Precious Metals is transitioning into the late-stage excess rally much quicker than in 2009-10.
Treasury Yields Drive Explosive Trends In Silver
How do Treasury Yields relate to price action in Silver?  The first thing we need to understand is that Silver can rally while Yields are rising or falling.  What happens when Yields rise over long periods of time is that Silver will tend to attempt to find support while trending moderately higher.  Eventually, if fear subsides in the global markets, Silver may fall in price in the later stages of rising Yields.
Sign up now to receive information on the launch of the Technical Traders' options trading courses and newsletter!
As you can see on the Treasury Yield to Silver chart below, Yields collapse in 2008 & 2009, as the Housing Crisis unloaded on the global markets.  Yields also collapsed in 2020 as COVID-19 shocked the global markets.  In 2009-10, interest rates collapsed and Yields collapsed until late 2013.  Silver continued to form a base in 2015~16 as Yields rose and peaked.  Near the peak in Yields in 2018, Silver continued to attempt to establish a bottom.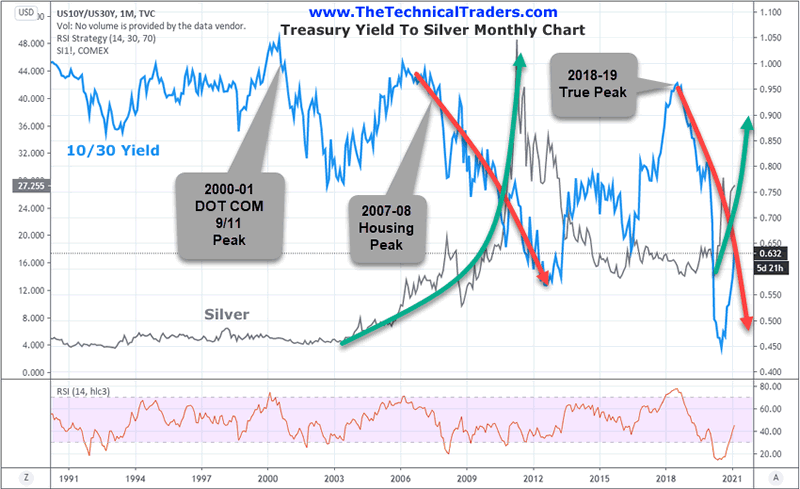 What we find interesting related to this chart is the steep collapse in Yields after the 2018 peak and the recent rally in both Yields and Silver.  We believe Yields may stall and begin to move lower – resulting in another rally attempt in Silver and Gold.  We believe the recent rally in Yields is a reaction to the deep lows related to COVID-19 and that Silver is representing a price pattern similar to 2008-09 – a deep low, followed by a moderately strong price recovery.  Yields could stay low for much longer than many people expect if our research are correct.
If Yields continue to stay near or below current levels, the lowest ever experienced in recent history, then Silver should begin another rally attempt very quickly – possibly within just a few weeks.  The question becomes, what would prompt Yields to fall quickly from current levels?  Could some type of global credit or financial crisis be brewing again?
Commodities & Metals Align
Last but not least, we want to highlight the correlation between commodities and Silver/metals.  When commodities prices rise, in general, Silver rises as well.  The Monthly Commodity & Silver chart, below, highlights the rally in Commodities in 2010~2011 as well as the incredible rally in Silver that took place at the same time.  Now, focus on the hard right edge of this chart and pay attention to the rally in Commodities and Silver that has taken place over the past 12+ months.  What is brewing is that Commodities are rallying from a deep bottom that has taken over 9 years to complete.  The continued decline in commodities since 2011 has prompted a very strong price recovery attempt after the COVID-19 deep lows.  Silver has reacted to this rally in Commodities, like it usually does, to prompt a fairly strong upside price trend.
Recently, though, Silver has stalled while Commodities prices have rallied.  This suggests that Silver is congesting in a new momentum base and should begin an explosive upside price rally – comparable to the rally we are seeing in Commodities.  Commodities have rallied near 20% over the past 12 weeks while Silver has nearly the same amount over the same span of time.  From the COVID-19 lows, the Commodity Index rallied nearly 22% while Silver rallied more than 127%.  If Silver were to maintain this ratio, the 20% rally in Commodities should prompt a 110% rally attempt in Silver.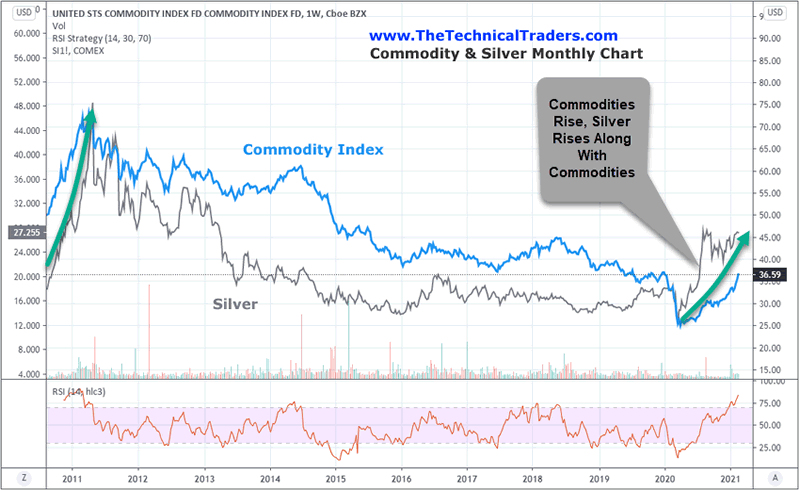 Given our research related to how Silver has moved compared to Gold, Treasuries, and Commodities, we believe Silver is basing and building momentum for a big breakout rally.  We believe the upside move in Yields has put pressure on Silver and Gold recently to stall/consolidate.  We believe Commodities are building strong upside price momentum which should push Gold and Silver higher.  As the Commodity rally continues while Gold and Silver stall, an incredible amount of upside price momentum builds up over time.  When it breaks, it could be very explosive.
A change of direction in Yields could prompt Silver and Gold to resume a strong upside price trend. Either way, as long as Commodities continue to rally and Yields begin to stall or more sideways, Gold and Silver are poised to attempt another advancing leg higher.
Our research team believes Gold and Silver are poised to make another big price advance.  We wish we could tell you exactly when it will happen – but we can't.  Our estimate is that within the next 2 to 4 weeks, continued pressures will likely push both Gold and Silver into an upside breakout price trend.  We believe the amount of rally pressure that is building in Gold and Silver is immense.  Time will tell if we are correct or not.
Staying ahead of these sector trends is going to be key to developing continued success in these markets.  As some sectors fail, others will begin to trend higher.  Learn how BAN strategy can help you spot the best trade setups. You can learn how to find and trade the hottest sectors right now in my FREE one-hour BAN tutorial.
Don't miss the opportunities in the broad market sectors over the next 6+ months. For those who believe in the power of relative strength, cycles and momentum then the BAN Trader Pro newsletter service does all the work for you in determining what to buy, when to buy it, and how to take profits while minimizing downside risk. In addition, you will be kept fully informed of the market with my short pre-market report delivered to you every morning along with the BAN Hotlist for those looking for more trades.
Happy trading!
Chris Vermeulen

www.TheTechnicalTraders.com
Chris Vermeulen has been involved in the markets since 1997 and is the founder of Technical Traders Ltd. He is an internationally recognized technical analyst, trader, and is the author of the book: 7 Steps to Win With Logic
Through years of research, trading and helping individual traders around the world. He learned that many traders have great trading ideas, but they lack one thing, they struggle to execute trades in a systematic way for consistent results. Chris helps educate traders with a three-hour video course that can change your trading results for the better.
His mission is to help his clients boost their trading performance while reducing market exposure and portfolio volatility.
He is a regular speaker on HoweStreet.com, and the FinancialSurvivorNetwork radio shows. Chris was also featured on the cover of AmalgaTrader Magazine, and contributes articles to several leading financial hubs like MarketOracle.co.uk
Disclaimer: Nothing in this report should be construed as a solicitation to buy or sell any securities mentioned. Technical Traders Ltd., its owners and the author of this report are not registered broker-dealers or financial advisors. Before investing in any securities, you should consult with your financial advisor and a registered broker-dealer. Never make an investment based solely on what you read in an online or printed report, including this report, especially if the investment involves a small, thinly-traded company that isn't well known. Technical Traders Ltd. and the author of this report has been paid by Cardiff Energy Corp. In addition, the author owns shares of Cardiff Energy Corp. and would also benefit from volume and price appreciation of its stock. The information provided here within should not be construed as a financial analysis but rather as an advertisement. The author's views and opinions regarding the companies featured in reports are his own views and are based on information that he has researched independently and has received, which the author assumes to be reliable. Technical Traders Ltd. and the author of this report do not guarantee the accuracy, completeness, or usefulness of any content of this report, nor its fitness for any particular purpose. Lastly, the author does not guarantee that any of the companies mentioned in the reports will perform as expected, and any comparisons made to other companies may not be valid or come into effect.
© 2005-2019 http://www.MarketOracle.co.uk – The Market Oracle is a FREE Daily Financial Markets Analysis & Forecasting online publication.